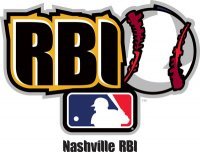 Want to play? Get in touch!
If you would like to join our league next season, sign up or contact us to find out more information.
Follow Us On:
Twitter:  Nashvillerbi
Instagram:  Nashvillerbi
Contact Us At:
Nashrbi@gmail.com
Online Registration Periods:
12 and under Baseball and Softball

February 17th - March 30th

Junior Division Baseball and Softball
Senior Division Baseball and Softball


Welcome to Nashville RBI
Our mission is to provide as many young people as possible the opportunity to play the games of baseball and softball as possible. 
For the spring and summer of 2018, RBI Nashville will offer boy's baseball and girl's softball at Looby Center, Madison Park and Seven Oaks Park.  These leagues are for boy's and girl's 12 years of age and under, who desire to learn and play the games of baseball and softball.
This RBI Nashville will expand its programs to include junior division baseball and softball in partnership with Metro Schools.  We will also expand our senior division to include more baseball teams and to launch a senior division softball program.  If interested please speak to the coaches and/or administrators at your middle or high school. 
We hope that everyone has an enjoyable season as they learn more about the game, build character and work ethic, improve their individual skills, and foster meaningful relationships with other players and families.
Event Highlights:
On February 10th, Major League Baseball hosted the first Fun At Bat event for the 2018 season at Cane Ridge High School in Nashville.  This event was incredibly successful and served as the launch of the rebranded RBI Nashville Baseball and Softball Program.  You can learn more about this event by following the link below.
https://www.mlb.com/news/mlb-holds-play-ball-event...
Player Fees 2018:
12 and under baseball and softball  $ 60.00
13 and over baseball and softball    $100.00
*scholarship opportunities are available on a limited basis.